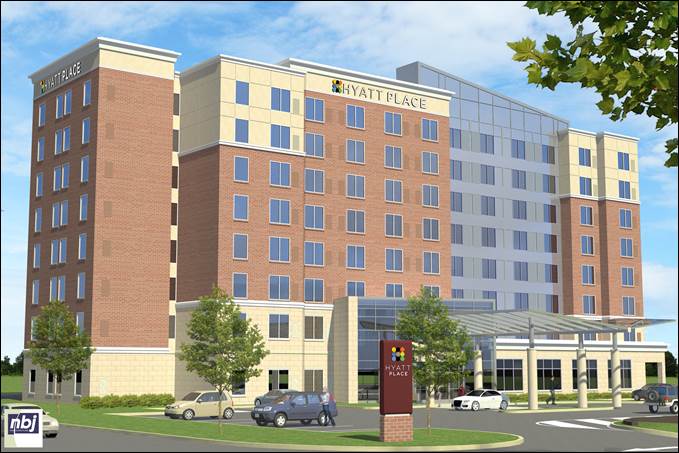 PMZ Realty Capital, LLC, a national boutique real estate investment banking firm focused on creating advantageous capital structures for its clients, announced today it arranged a $23,725,000 construction loan for the Hyatt Place Fort Lee in Fort Lee, New Jersey.
The 168-room property will offer guests modern and spacious guestrooms equipped with the Hyatt Grand Bed, work desk, refrigerator, coffee maker, and in-room safe. The hotel features complimentary breakfast, and 24-hour Gallery Menu with freshly prepared meals along with bottled beverages and packaged grab 'n go food items.
"Construction financing is getting harder to secure in today's climate, but not impossible for experienced financially strong owners with substantial projects," said Michael H. Sonnabend, Managing Member PMZ Realty Capital LLC. "We were able to leverage our extensive relationships and work with a lender who had not previously funded hotel construction loans in the New Jersey Market."
The property will be located right outside of New York City with convenient access to Yankee Stadium, Meadowlands Sports Complex, Columbia University, and all New York City offers.
PMZ Realty Capital LLC is highly regarded within the hospitality industry for their integrity, creativity and advocacy on behalf of their clients. With over 75 years of combined experience, they are the industry experts and as such, are frequent contributors to industry publications and conferences. The firm approaches each assignment with passion, commitment, and dedication to achieving the client's objectives.
For more information about PMZ Realty Capital LLC or to contact the firm to finance your next hotel, contact Michael Sonnabend, Managing Member, PMZ Realty Capital LLC at (212) 277-8252.
About PMZ Realty Capital LLC
PMZ Realty Capital LLC is a boutique real estate investment banking firm that operates on a nationwide basis. Their advisory services are focused and highly specialized with the singular goal of creating the most advantageous capital structure for their clients. The firm focuses on debt and equity financing, note sales, joint ventures, recapitalizations and real estate advisory services. PMZ Realty Capital LLC is a national leader in hospitality financing and has an extensive transaction history with other asset classes, including office, retail, self-storage, multi-family and industrial properties.