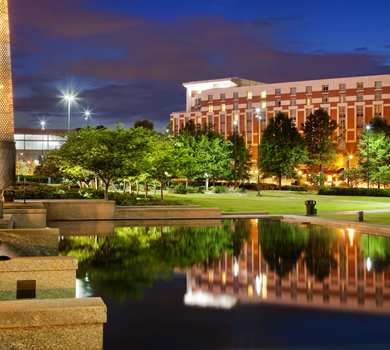 PMZ Realty Capital LLC, a national boutique real estate investment-banking firm focused on creating advantageous capital structures for their clients, has obtained a $81.5 floating rate loan for the Embassy Suites Atlanta-at Centennial Olympic Park, a 321 suite hotel featuring over 16,000 sq ft in meeting space. The property will become the third loan PMZ Realty Capital LLC has closed for hotel owners, Legacy Property Group, in the last six months.
"This particular financing opportunity was interesting for PMZ due to the nature of the loan. We secured a floating rate loan versus a fixed rate loan so the owners, Legacy Property Group, could invest in substantial property improvement plans (PIP) and an upgrade of the property over the next 12 months with the flexibility that a floating rate loan allows for renovations and future fundings," said Peter Berk, President, PMZ Realty Capital-Hotel Finance Group. "We consider this to be a major victory due to the sheer size of the loan and the improvements that will be made to the property benefitting the vibrant city of Atlanta."
"Thanks to PMZ, we were able to retire our existing debt and receive favorable financing terms that will provide monies for the immediate renovation of the hotel," commented David Martin, Founder and President, Legacy Property Group. "As a longtime supporter of Atlanta and the resurgence of their downtown market and the Luckie Marietta District, it's especially significant to continue to revitalize this area. This upgrade helps us continue down that path and invest in the future of the city."
The Embassy Suites Atlanta- at Centennial Olympic Park is located in downtown Atlanta, 8 miles from the Hartsfield-Jackson Atlanta International Airport. The contemporary style hotel has 321 two-bedroom suites, 16,000 sq ft of meeting space and a relaxing outdoor pool and spa. It is adjacent to Georgia Aquarium and the World of Coca-Cola in the Luckie Marietta District.
PMZ Realty Capital LLC is highly regarding within the hospitality industry for their integrity, creativity and advocacy on behalf of their clients. With over 75 years of combined experience, they are the industry experts and as such, are frequent contributors to industry publications and conferences. The firm approaches each assignment with passion, commitment and dedication to achieving the client's objectives.
For more information about PMZ Realty Capital LLC or to contact the firm to finance your next hotel, contact Peter Berk, President, PMZ Realty Capital LLC at (212) 277-8265.
About PMZ Realty Capital LLC
PMZ Realty Capital LLC is a boutique real estate investment banking firm that operates on a nationwide basis. Their advisory services are focused and highly specialized with the singular goal of creating the most advantageous capital structure for their clients. The firm focuses on debt and equity financing, note sales, joint ventures, recapitalizations and real estate advisory services. PMZ Realty Capital LLC is a national leader in hospitality financing and also has an extensive transaction history with other asset classes, including office, retail, self-storage, multi-family and industrial properties.